There has been a ton of discussion about this race, most of it surrounding contingency plans for when, in the event of a curtailed or cancelled swim, what was going to be the likely format. Lots of people wondered about the water temperature.
Bottom line, we all had the training done (or should have!) and we were all there to race the conditions that were thrown at us on the day.
I've written previously about the rules under which decisions are made on race conditions, emphasis on the swim in particular.
This is my race report, not a rant, though I will point out a few negatives I was not happy about and points likely to make me think twice about next year.
Saturday 18th of May 2013 started as a good day.
Mentally and physically I was prepared to race. I'd my bags packed, bike checked, and was good to go. I was actually hoping for and was ready for a full swim, 1900m which I knew would be cold, but I was there to race just like everyone else.
After breakfast, my usual porridge for race day, I kissed the family and said to my wife how I was looking forward to measuring myself against the best in my AG in the country over what I think is my best racing distance (middle distance, half Iron, 70.3 or whatever you call it yourself).
Its a long trip, 2.5 hours from Galway with a bit of cross country driving to Lough Lene in Co. Westmeath.
Turning down the hill to the carparking area, the lake opened out in front of me. Looking calm and inviting, just like the race promotional poster, I thought this is going to be good.
A great parking spot in beside transition, out, stretch the legs around the car park spotting and greeting familiar faces. Down to registration to pick up my race t-shirt, race number, timing chip and swim cap.
At 10am I was sorted and ready to get organised. Bike out of van, tyres checked and topped up, nutrition prepped and fitted on bike (x2 bottles Accelerade, x1 bottle water with Nuun, x5 GU gels) shoes clipped in, helmet on head, race number on and into transition I went to rack my bike and leave my running shoes with sock in my spot. I don't fuss over things, that is all done at home in the days leading to an event, I believe if you are fussing in transition about details on your bike, you're in trouble.
Quick chat with familiar faces in transition, Ian, Mark, Liamo, Gabby couple of Galway boys Cian & Arthur. Lot of chat about the coolness of the weather and still the likelihood of a full swim. My 15°C photo from Loughrea Lake on Friday afternoon: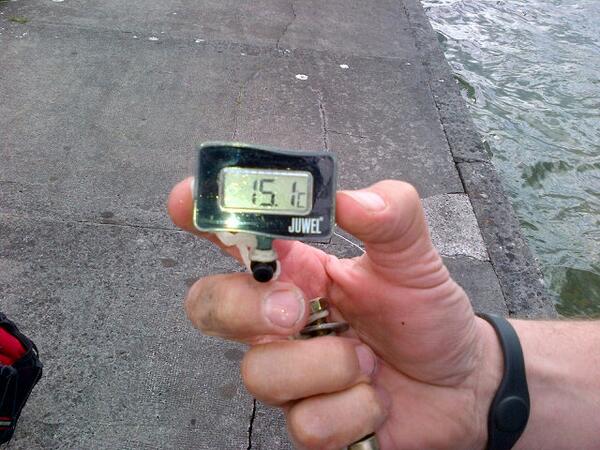 And rumoured 14°C in Lough Lene. (Not a chance!!). We were all there to race (in our different capacities) and there was a willingness to swim. So a non-issue.
By 11am pretty much everyone that was going to race had turned up and the transition area was busy. People were checking out mount / dismount areas, walking the entry and exit of transition, visualising, I was happy, I'd this all done and was quite relaxed waiting to change into my race gear. I'd a few nibbles in the van and a cup of coffee to top up breakfast.
Race briefing was due at 11:20am for a 12:00am start so time to change into race gear, base layer top, trisuit. back on went the hat, Amphibian King fleecy cycle jacket and club hoody as well as warm up pants. I was leaving the wetsuit until we were almost ready to go, staying warm was important.
Here is where it starts to go wrong.
All the competitors were huddling around the area outside of transition at 11:20. There was a lot of good-natured chat and banter, but also a fair bit of shivering going on.
11:20 came and went.
11:30 came and went.
Lots of 'officious' looking people and Triathlon Ireland Technical Officials (TO's) and the race referee in a big huddle down the dock.
11:40 same thing.
Eventually at 11:55 we were told that a swim would be happening. Big cheer! But, it would be shortened to 700ish meters. Race briefing would be at a deferred time of 12:10pm. We were also informed that no bags were to be left in transition.
Wetsuit on and my Plan B move of putting a 2XU windproof cycling jacket with a rain jacket and gloves in the stuff pockets as well as a towel into transition was an indicator of my weather radar working.
12:10 – race briefing.
The day was getting colder as were we. Briefing was an explanation of the course, swim out buoys on your right, straight back to the slip, 20minute maximum cutoff; bike unchanged, as per race doc, rules of the road apply, watch the villages, no drafting, no littering, open road mind the traffic; run unchanged. Be safe, enjoy!
TO then spoke about strict 20min cut off in swim, you will be removed from the water, deposited on the slip and decision as to how fit you are to continue will be made, but you will not be racing. Bike marshals are watching for signs of hypothermia on the cycle course, you will be ambulanced if there is any doubt.
12:30 we are counted down the slip into the water. 12:32 would have been the perfect time to take the water temperature! 😉
12:37 off we go!!
As per usual, I know my place & pace. Setting off at the rear of the field I moved steadily up and through. Within the first 200m I passed some people obviously struggling doing breast stroke and gasping with the cold, I reckoned they would be swept up pretty sharpish by the boat crew. Round the buoys, lots of people barging through the inside on top of each other, I'd a wide line and stayed out of the trouble and swam straight to shore.
Out of the water with marshals calling time mark at 17 minutes (not 700m!!) up the ramp and into transition.
Bike located, helmet on, PM on, GPS on, rub down the arms and jacket on. De-rack and go. Trotted around to the exit line in barefeet, half of it carpeted, but with blocks of ice for feet it could have been hot coals and I wouldn't have noticed.
Moving mount, feet on shoes and away!
WTF?! Got 30m and stopped. Neoprene covers wrapped around the crank! Back pedaled to unwind and go again, same issue. Stop, off the bike, unclip shoes, ripped off covers, threw covers to side of ditch, shoes on and as I was going a spectator said she'd pick up the covers. "Grand, thanks!"
Up the hill, left at the top and onto the route.
Settled quickly, a systems check, PM reading – check!, speed / distance reading (GPS) – check!
I wanted to cycle a strong race and was pushing hard reeling in and catching people. The course is a tough course. When you climb like me you have to make the most of the downhills and work hard on the up-hills so its tricky making a call on when to drink or eat. I usually push over the top of a climb and at start of a descent grab a drink or gel before driving down the descent. I've no fear on a descent (respect yes, fear no) and try maximise the momentum off the bottom.
On the first lap there was so much drafting going on I was fuming. This is National Championships, you're cheating!! There's a couple of people I marked for future attention. There's also a shocking lack of awareness and obeyance of the rules of the race. Guys sitting two abreast, like a club training ride, blocking safe overtaking routes, forcing people to cross white lines.
No way was I risking a DQ cos you're a twat. 'Behind on your right!' Get the hell outta my way. I'm racing my race here.
Collinstown and Castlepollard are two busy towns and on a Saturday afternoon not the best to be negotiating on bikes. Between shoppers and country parking you had to sit up and be aware. The rest of the route was hammer worthy. Some very stiff climbs on the first lap, but some nice rolling sections which I can TT quite nicely, thankyou.
Coming to the end of the first lap, I reeled in another couple of guys over a km or so and then the heavens opened, literally at lap 2.
Air temperature dropped a couple of degrees and heavy rain made it uncomfortable. There was now very few to be seen ahead and nobody coming through. Power stayed fairly constant, though the climbs were tougher second time round I still did my best going up them, digging in and pushing myself on. I didn't stop to do gloves or jacket, though with wet hands the gloves wouldn't go on and the 2XU jacket still kept my torso warm. Hands and feet weren't too happy.
Looking back now, I can see my heart rate dropped on average through the second lap (due to the cold?) even though power and speed seems comparable with the first lap. My legs were starting to tighten up but I expect that too. I'd run that off.
Couple of issues with the bike; lost tool kit bottle (near start, got it after race), Kinetica water bottle jumped overboard (no loss), Accelerade bottle jumped overboard (almost empty), repair cylinder with slime lost overboard. All were on account of bumpy surface except pump which worked loose and flew on a corner. I need to adjust my rear mounted bottle cage for the next time.
Back into the race HQ as I stepped off the bike, the cold hit me. I realised I had been shivering through the last 25k or so and this was why the legs were feeling bad. I racked my bike and as I went to take the helmet off I realised I was soaked through, my running shoes were wet through and I was cold. One of my old club mates came over to help unclip the helmet and I just said thanks, but I'm done, enough done.
Shaking vigorously I handed my chip to the official at the exit to transition and for the first time DNF'd myself.
Straight to the van I stripped off the gear, wrapped myself in towels and got into clean, dry gear. UA thermal top, double hoody, hat and gloves, CompresSport recovery stockings / leg warmers and my jeans. I spent the next hour cold, drinking tea and staying in shelter. It was not fun. 😦
All I wanted to do was get the hell out of there and on the road home. I couldn't though. I had to cheer on those who were tougher than me, those who had a better race plan than me, those who finished.
My race will be another day, this was not to be my day. As my wife said, it's not often I do the right thing at times like this, but this was the right call for me on the day.
I want to acknowledge the fantastic marshals at all the junctions, the club members who helped out and thank the TI officials who made the right call for everyone's safety.
There are a couple of things I want to offload however, constructive criticism, none of which I am blaming for my DNF, that was me.
Communication – very poor.

Facebook, boards, email, give people information about the water temp. You were asked, just give it, let people know what to expect.
Race day. To have 2-300 people standing around in the cold for over an hour waiting for race information is wrong. Let people know at 11:20 there is a delay, go stay warm, eat etc come back in 30mins.

Organisation – in general it was good. In my opinion a race that is going to be 5-6 hours for most should have better transition arrangements.

You should be allowed a covered box or bag in transition to keep your run gear dry. Its Ireland, seasons change in 3 hours.
At the end people could not get their dry bags as all dumped in a tent on top of each other. People cold and shivering looking bewildered at a jumble of bags.
Foil blankets. There really should be enough to go round or…marshal people directly to a dry area for changing. Do not encourage loitering at the finish area when the weather is this bad.
Draft penalties. I didn't see any issued and I know there was a team of 3 up the road ahead of me working together that a marshal drove past.
Next weekend is Rosses Point standard distance race another Open Water swim but hopefully no more issues. Head to head with the wife!!